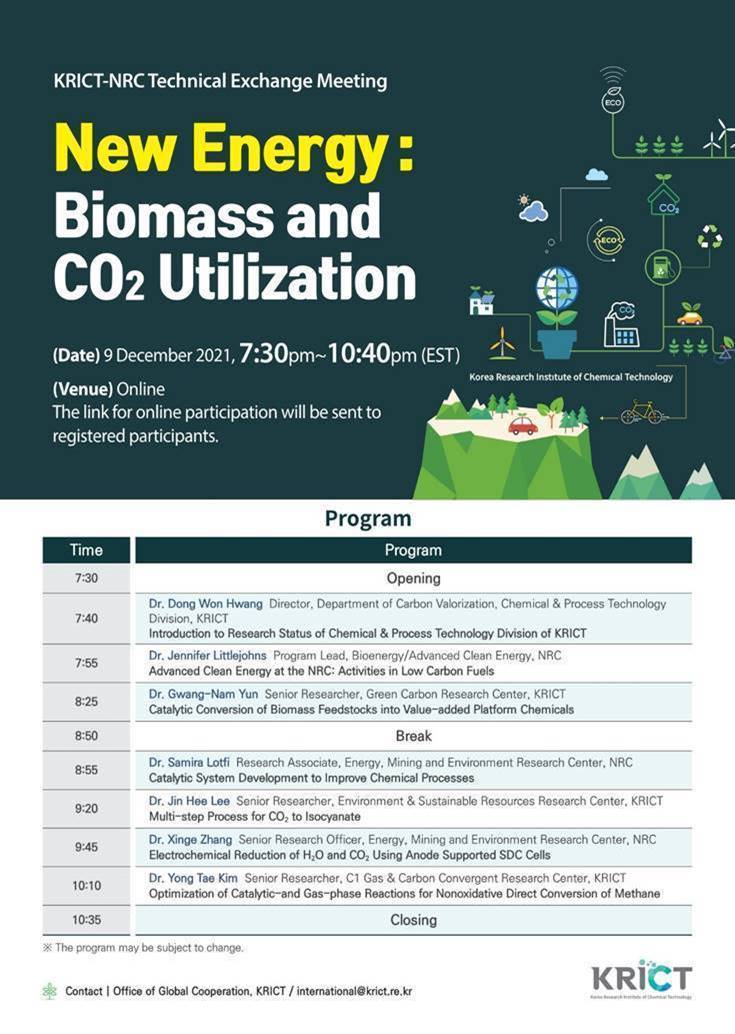 한국화학연구원-캐나다국립연구회 기술교류회
(New Energy: Biomass and CO2 Utilization, 9th December 2021)
한국-캐나다 양국협력과제 도출 일환으로, 한국화학연구원과 캐나다국립연구회(National Research Council Canada)가 "New Energy: Biomass and CO2 Utilization"이라는 주제로 기술교류회를 오는 12월 9일(목)에 개최합니다. 교류회는 온라인으로 진행될 예정이며, AKCSE 회원이면 누구나 참여할 수 있습니다. 행사 참가를 위해서는 사전등록이 필요하며, 등록 시 email 주소를 적어주시면 행사 1~2일 전에 해당 메일로 링크를 보내드릴 예정입니다. 관심있는 회원분들의 많은 참여 바랍니다.
· Date: December 9th 2021
· Time: 7:30 pm ~ 10:40 pm (EST)
· Venue: on-line (the link for online participation will be sent to registered participants only)
· Registration: https://forms.gle/wCh1t6BDavR1yAa49
기타 문의 사항은 김근수 박사(KeunSu.Kim@nrc-cnrc.gc.ca) 또는 안정애 사무장(info@akcse.org)에게 연락주십시오.